Look as Young as you Feel with Y-Lift The New Non-Surgical Facelift!
---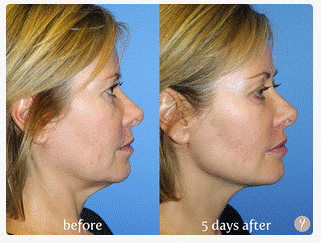 As we age volume and structure are lost and absorbed by our bodies. Our once taut skin and facial structure gradually become misshapen, wrinkled and even appear sunken in.
A youthful facial appearance is shaped like the letter "Y" being wide at the top, then narrowing as it tapers down to the chin. Over time, structural deterioration and gravity take hold of the arms of the "Y" causing them to widen and move downward and, similar to a balloon, the face loses volume and deflates.
Now Dr. Apodaca and Pure Gold Medical Center are proud to introduce an effective, non-surgical solution called the Y-Lift. The Y-Lift utilizes a structural volumizing technique that restores facial contours and replenishes lost volume.
How does it work?
The Y-Lift requires no sutures, no general anesthesia and no incisions. A titanium instrument is inserted underneath the skin and gently maneuvered to instantly lift the facial fat, skin and superficial muscle layers. After the lift and contouring has taken place, hyaluronic acid dermal fillers such as Juvederm XC/Juvederm Voluma are injected to hold the lifted tissues, skin and fat in place. Once secure, the titanium instrument is removed from the treated area. The doctor then sculpts the face to accentuate and highlight the patient's individual facial features. The procedure only takes about 30 minutes to 1 hour and can be done on your lunch break!
Y-Lift vs. Liquid Facelift
The structural depletion (loss of bone) cannot be addressed with fillers alone. A liquid face lift is mainly used to address volume loss by injecting dermal fillers, but does not target the loss of the primary facial structure. A dermal filler lasts about 6-8 months depending on the patient. Whereas the Y-Lift utilizes a unique lift, fill, and sculpt technique to revolumize and contour the face. Patients can enjoy the results of a Y-Lift for 1-3 years!
Am I a candidate?
Candidates for the Y-Lift can be adults of any age that have noticed volume loss in the cheeks and temples, sagging in the face and neck, and patients who wish to define their jawline and revive the under eye area. The Y-Lift is perfect for patients that desire a refreshed look but are not ready for a surgical face and/or necklift. A complimentary consultation is required to determine candidacy and to receive an accurate pricing quote.
Benefits of Y-Lift
Non-surgical
No Incisions
No general anesthesia
No stitches
Lasts 1 – 3 years
Accentuates cheekbones
Revives under eye area
Restores/defines jawline
Restores/defines neck
Instant, natural looking results
Minimal downtime
Contact us today to set your complimentary consultation appointment for Y-Lift! Dr. Apodaca and his staff are professional, caring, compassionate and ready to get your aesthetic rejuvenation process started.